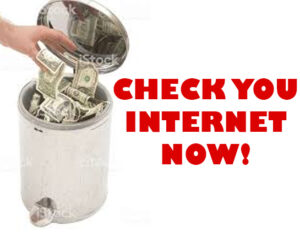 I am writing this post for people with no networking knowledge.
Most people do not have time to take care of their internet connection. Until people have access to the internet, and some of their favorite websites, they don't really care about what is going on there, and that's a huge mistake. Besides there is a serious security concern, it is also wasting money by paying for services we don't use. What is happening is that providers are taking advantage of our "don't care" behavior. Normally the internet guy comes (typically the worker of the ISP), mounts the modem and network management is considered finished here. Some of the tips here are really basic, but I have to mention them anyway to give the full picture to someone who read this and want to do it right.
Before we start, you should know this:
Here is the overview of how your home internet most likely looks like:
3 – Basic things you should check on your home network!
1 . Cables, Cables, Cables…
The Internet guy was at your home and he mounted up the new fancy fiber or cable modem, you only have to plug in your cable which is already laid down and prepared for your new internet. STOP!
If you didn't hear about CAT standards, then you must read this. Sometimes it is difficult to throw away thing which looks undamaged and in good condition, but this is exactly what you have to do if your ethernet cables are not meet the requirements. Every ethernet cable has printed text on it which is showing the standard of the particular cable.
Make sure that if you are paying for a 500 Mbps internet package, to have at least Cat 5e or Cat 6 cabling in your home.
It is really a waste to have less throughput cabling than what you are paying for. It is a pity that no one will notify you about this, from the position of the ISP – if you're using less bandwidth – better for them.
For example, I am laying Cat 7 / 10 Gb cabling soon in my home, even if I have only 1Gbps internet package, this way I can make sure that my home is ready for the modern internet.
2. Wifi Access Point
The wifi access is a bit more tricky, to find out if it's working properly. Typically the people are using the standard wifi, which is built in the modem, mounted by the technician, or sent out by ISP.
For example, right now my network looks similar that the network topology at the beginning of the article, which means that I have many more devices connected to the wifi than on cable. I got my modem together with my package when I have ordered the 1Gbps internet from my ISP. What nobody is told me ever, is that the device they supplied is not capable to provide that speed.
In the picture, we can clearly see that on the 2.4 Ghz channel, which is used by most of my devices, the maximum speed is 450Mbit/s – It is less than half of what I am paying for. Sometimes you don't have listed the speed on your modem, but you have listed the standard ( 802.11ac – on this picture ), so here I'm providing you the list of standards with the corresponding speed it support. On the back of your router, or in the manual, you can find out the speed of your wifi router.
Like with the cabling, the "I don't care" behavior is only good for the ISP, because you are using less than you actually ordered.
3. Security – Change the default password
This step is particularly important for those who are living in more populated places, where your device can see sometimes even ~50 wifi access points next to your one. By default, the SSID (Name) of the access point is usually the Company or the model of the modem. This is a serious security concern, if someone can see the manufacturer and model of your device, he can easily collect additional information about it, and use the vulnerabilities to penetrate into your network, or simply decrypt the data you are sending to your wifi modem. If you are connected to your modem, you can simply type the address 192.168.1.1 or 192.168.0.1 in your internet browser to connect to the device and do the protective measures. Most likely your device has a web interface to login and does the management.
The username and the password are on the packaging, or on the sticker on the bottom of the device.
To change this username and password is particularly important as well, there is a possibility that someone can open a permanent backdoor to your network, and monitor all your traffic, see your cameras, access your emails or bank account.
These are the basic steps to achieve a decent speed, basic security, and hopefully not losing money. There is still much to do, and much to improve, and I will make follow up articles for more advanced configurations, like separating different traffic types, improve the quality of some services by using QoS techniques, using a VPN for an extra layer of security, smart way of IP addressing, making extra secure wifi for guests, and much more. I hope I can help you to be the boss at your own network and take out the most from it.